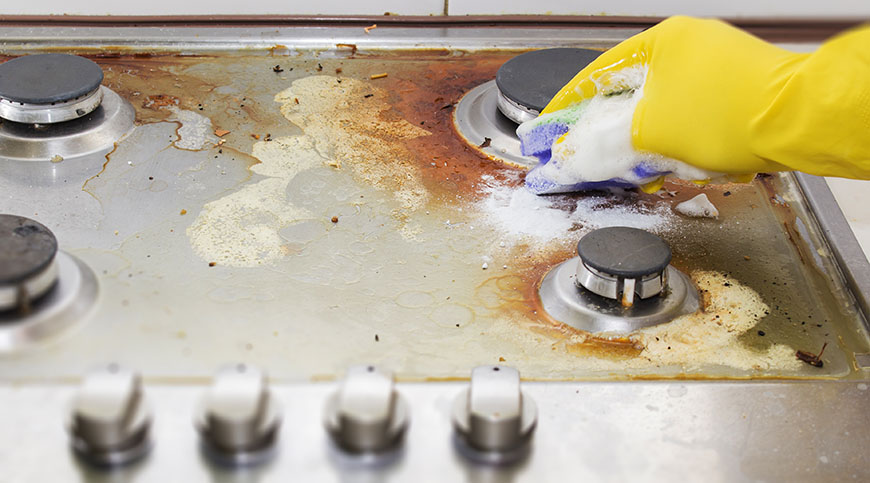 Top 10 Kitchen Cleaning Tips
If you are looking to create an enjoyable living space, a clean kitchen is crucial.  With a variety of odours, bacteria and spills never far away, it can pay to have a few tricks up your sleeve to keep your kitchen area fresh and spotless.  We've put together our Top 10 Tips Kitchen Cleaning Tips to help you keep your kitchen looking its best.
No 1 – Steam Cleaning
Steam cleaning a kitchen appliance like a microwave is easier than you might think.
Place a wet paper towel inside the microwave and heat for a few minutes. Remove the towel from the microwave. Once cool enough to handle, use the towel to steam clean your appliance.
No 2 – Pan Stain Removal
Do you find pan stains and grease hard to remove? Simply boil some water and pour into the stained pan. Add a few tablespoons of baking soda and washing up liquid. Allow it soak for a few hours. Stains and grease will often easily clear.
No 3 – Kettle Limescale Removal
Limescale can build up on many kitchen appliances. Limescale in a kettle can be removed by simply cutting a lemon into pieces, filling the kettle with water and bringing it to the boil. Leave the mixture overnight and discard the water/lemon mixture the next day.
No 4 – Freezer Defrosting
Defrosting a freezer can be made easier by switching it off and leaving the door open. Towels should be placed on the floor to soak the falling water. This should be done once a year for best results.
No 5 – Work Surface Cleaning
A daily counter clean is essential to a fresh kitchen. Dip an all natural fibre sponge into undiluted vinegar and wipe the work tops. Any tougher stains can often be removed by adding baking soda and water into the sponge.
No 6 – Spillage Cleaning
A stovetop or cooker is prone to spills and stains. Add together a tablespoon of baking soda and tablespoon of salt. Add a tablespoon of water to the mixture and put it all together.Dip a cloth or sponge in the mix and scrub away.
No 7  – Reducing Scratches
Reducing scratches on stainless steel and getting a clean shine can be achieved with a gentle rub of wool and stainless steel spray polish.
No 8 – Burnt Pots & Pans
Burnt pots and pans don't necessarily need to be thrown away. Add water to the burnt pan to cover the bottom. Add a cup of vinegar and bring the water to the boil. After a few minutes, remove the pan from the cooker and add baking soda. Expect a fizzy reaction. Allow the baking soda to settle. Once settled, remove all the contents of the pan and use a scourer to rub away.
No 9 – Killing Bacteria
Hydrogen peroxide is a bacteria killer that can be used on a chopping board. First, wipe down the chopping board with towel soaked with vinegar. Then, do the same but apply the hydrogen peroxide with a different towel over the chopping board.
No 10 – Use Professional Cleaners
Although you can use a variety of techniques to great effect, you can't beat using professional cleaners to quickly get your kitchen in shape. With high-grade cleaning products and years of know-how, our professional cleaners are able to deal with even the toughest of scenarios.
If you need help getting your kitchen to optimal cleanliness, give Top Down Cleaning a call today on 0330 123 4316 or email us at info@topdowncleaning.co.uk